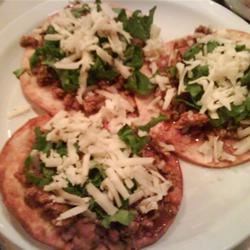 Ingredients
1 pound lean ground beef
1 cup chopped sweet red pepper
1/2 cup chili sauce
1 teaspoon dry Mexican or taco seasoning
1/4 teaspoon salt
1/4 teaspoon pepper
1/2 cup sour cream
1 tablespoon chipotle sauce
6 tostada shells
3 cups shredded lettuce
1 1/2 cups guacamole
1 1/2 cups shredded Mexican cheese blend
Directions
In a large skillet, cook beef and red pepper over medium heat until meat is no longer pink; drain. Stir in the chili sauce, Mexican seasoning, salt and pepper; heat through.

In a small bowl, combine the sour cream and chipotle sauce. Layer each tostada with lettuce, meat mixture, guacamole, cheese and chipotle cream.
Footnotes
Nutritional Analysis: 1 tostada equals 460 calories, 30 g fat (13 g saturated fat), 75 mg cholesterol, 1,040 mg sodium, 22 g carbohydrate, 6 g fiber, 24 g protein.